1. Unwrap Your Free Gifts Use the software and tools people have developed and put online for free in conjunction with your social media campaign. Did you know there are ways to track how many visitors you have on your Facebook fan page? Are you using bit.ly links to track the links you tweet about? Did you know you can make your website mobile with Mobify? Have you set up a free WordPress blog? Can you create video content about your business and upload it on YouTube? There are millions of free services you can use. If you don't know about all of them, try following digital marketing gurus on Twitter (like @BJ and @littlemissjacob) and keep up with all the free tools available. 2. Give Gifts People Actually Want
Blasting  information out to Facebook and Twitter in the form of advertisements is the social media equivalent of giving someone a bad tie or a gift set from Bed Bath & Beyond.  It's been done. Those are gifts nobody wants or needs, not only will you not be popular around gift giving time, but your gift will probably be thrown out or forgotten.  If you're trying to get your business' message across, why not give back while you do it. Let's say you're in the business of selling pizza. Why not tweet throughout the week the top 10 strangest topping combinations and give a free pizza to the customer who came up with the combination that people re-tweet about the most.  If you're a hairstylist, why don't you tweet the top 10 hairstyle trends of the month. 3.  Don't Be A Greedy Scrooge!
As you Twitter and Facebook away about your business and promotions, don't forget that it's not all about you and your business.  Read tweets and respond by retweeting (RT) useful information or responding to people who @tweet to you.  If you're just taking in all the social media love, then you most likely won't gain many fans.  As you tweet, tweet like a celebrity.  Talk about your fabulous products, events you attend, what other  businesses you work with, things you endorse etc.  But remember, you can't be a celebrity unless you sign autographs, shake hands and take pictures - which in the Twittersphere means retweet (RT), answer questions and solve customer service issues with personal care.  It will go far and you'll no longer be saying, "bahumbug!" to your social media efforts!
4.  Put your elves to work! If you're going to put efforts into social media, make sure your staff is on the same page.  Some of your staff members might not even know how to use Twitter while some of them may already have huge social media networks and a following.  Have a staff meeting to talk about goals and promotions that everyone can Tweet or Facebook about.  If there's things you still don't know about Twitter and Facebook, check out the hundreds of "how to" videos on YouTube that walk you through the process.  Feel free to copy the links of your favorite "how to" videos and send as an all-staff e-mail. 5. Stuff Stockings with Discounts & Sales People are really looking out for coupons and discounts this holiday season, so take advantage of social media to run a holiday campaign.  Consider adding a contest to your Facebook fan site.  You can add a tab with the title of your campaign using the FBML application which lets you put html within Facebook.  Within this Facebook tab you can add coupons for people to download and print. 6. Are You On the Naughty List? Top 10 Lists and Tips are a good way to get some attention.  Give your content a good title and write about things people are interested in. You want to give out such good content that your audience is excited to share the information to their friends.  Make sure when you write blog posts that you "Post a Link" to your blog via Facebook or "add a Note" within Facebook.  Then get a bit.ly link and post your content on Twitter!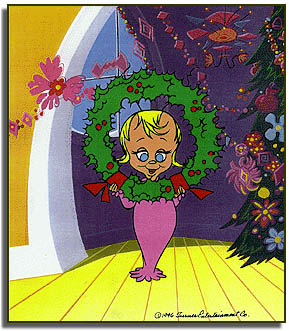 6. Reconnect with all the Whos' from Whoville Reconnect with ALL your clients and let them know how you appreciate them and perhaps how you can help them with other needs they may not even know you offer.  Send a personalized holiday card or greeting through Facebook or e-mail.  You can even add your personality by turning on your web cam and recording a short message. Then upload to YouTube and send the link along with your holiday card. 7. Your gifts will stand out with bright wrapping paper and bows.
To get attention in social media during the holidays, try editing your profile photo for Twitter and Facebook.  Start with a square image of yourself or your logo and put a border around it in red and green or add a bow.  Small touches can make your profile photo stand out.  You can also change your Twitter background and add photos of any promotions, gift ideas or just a holiday message. 8. Rudolf the red nosed reindeer, you'll go down in history! If you're feeling like Santa staring into the social  media fog, don't be afraid to call for backup. Either hire a digital agency, read up on blogs, case studies, watch videos and ask for expert help.  It's better to do things the right way before wasting precious hours setting up social media platforms that you don't know how to leverage.  The more you know about how other companies are using social media, the more ideas you'll get for your own.  The best digital agencies will walk you through the process of social media.  Beware of companies that want to "tweet" in place of you - didn't you hear how much bad press Britney Spears got when the public found out she had a P.R. agency tweeting for her?  So unauthentic. You don't want to go there, believe me. 9. Make sure Santa knows where to find you! Don't forget to add links or badges to your website that connect to your Facebook, Twitter & YouTube Channel.  Your customers may not be checking your website every day, so if they know they can check you out on a website they use daily, you will have much better visibility and outreach.  You can also put a link as your e-mail signiture and in company e-mail newsletters. 10. Holidays are about GIVING. Give content. Give tips. Give useful information. Give discounts. Give prizes. Give Give Give!  And you will GET how social media can help you thrive this holiday season! Hope this helps...and Happy Holidays from Digital Operative!
- @LittleMissJacob
More from the
DO Blog
Designing & Building Product Finder Quizzes for eCommer...
Strategy & Planning / December 23, 2020
View Blog Post